induction heating for cars overview of applied automotive applications
2013/6/2 Views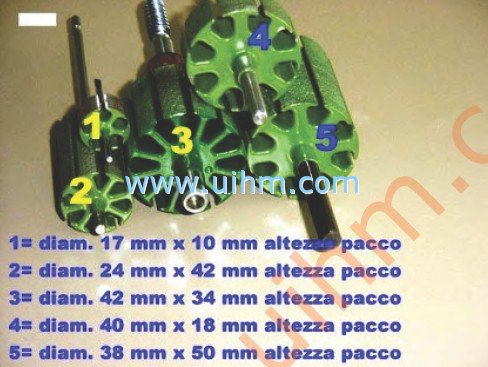 TECHNOLOGY DESCRIPTION
Surface treatment of the ring gear and subsequent hot-shrinkage on the motor flywheel.
Thanks to use of the modern Termotek series, the ring gears coming from feed magazine are heated and hardened very rapidly, so that geometrical deformation of the ring gear is avoided.
The cooling phase is stopped when the starting ring gear still has sufficient temperature to provoke the expansion needed to fit it on the flywheel. The ensemble is then definitively cooled.
BREAKE OF TECHNOLOGY DESCRIPTION
Double wall on-line brazing used for transport of the braking circuit liquid.
ON-LINE PROCESS ADVANTAGES
Since this particular tube has been invented, with considerably higher resistance
characteristics compared to classic single wall tubes, furnace brazing technology with
controlled atmosphere has always been used. The cold-profiled brake-fluid conveyance pipe
was cut down to variable lengths but not more than 40 metres. It was then passed with others
in a furnace where, once a temperature of 1,200°C was attained, it was brazed. The
revolutionary technology developed by Termomacchine permits the pipe to be brazed directly
on the production line at a speed of about 110 meters per minute for 4.76 mm diameter, and
not much less for the 6.35 mm diameter.
REDUCED PRODUCTION COSTS
It appears evident that the production costs are drastically lowered and the waste due to the
necessity to cut down a tube length for the furnace passage is reduced. The number of
personnel employed for production is reduced substantially.
INCREASE IN QUALITY
A modern brazing line by Termomacchine can offer valid opportunities for production quality
control thanks to continuous monitoring of the process temperature, to the production
atmosphere composition, and to many other technological parameters. A concrete increase in
safety is given by a tangible reduction of the circulating gas volume in comparison to
traditional furnaces. www.uihm.com
Down Attachment
DownloadAttach1: INDUCTION FOR CARS OVERVIEW OF APPLIED AUTOMOTIVE APPLICATIONS.pdf Clicks