HARDENING AND TEMPERING OF TOOL AND DIE STEELS
2013/5/16 Views
Tool and die steels are covered in BS 4659:1989,although both American nomenclature and a variety of trade names are also in use. Available in high-quality grades, these specifically-designed steels can be grouped broadly according to their intended application:
• High-speed steels (BM and BT series in BS 4659) for drilling/cutting, with an ability to retain hot hardness.
• Cold-work steels (BA, BD and BO series) for stamping,blanking, pressing and forming.
• Hot-work steels (BH series) for hot forming and precision die casting.
• Plastic-moulding steels (BP series) for plastic-moulding and highly-polished dies, where toughness is required.
• Shock-resistant steels (BS series) for chisels, punches and tools subject to impact loading.
• Hammer die steels for cold forging, hammering and
stamping.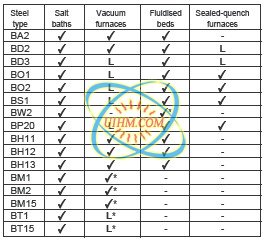 WHAT ARE THE TREATMENTS?
All tool and die steels must be heat treated to develop optimum properties in terms of hardness, strength, toughness
and wear resistance. Almost all are hardened and tempered.
Hardening involves controlled heating to a critical temperature dictated by the type of steel (in the range 760-
1300°C) followed by controlled cooling. Dependent on the type of material, appropriate cooling rates vary from very
fast (water quench) to very slow (air cool).
Tempering involves reheating the hardened tool/die to a temperature between 150-675°C, depending on the steel
type. A process which controls final properties whilst relieving stresses after hardening, tempering can be complex;
some steels must be subjected to multiple tempering operations.
In some cases, a sub-zero treatment can be incorporated into the hardening and tempering cycle in order to develop
maximum hardness and optimise dimensional and metallurgical stability.
Down Attachment
DownloadAttach1: HARDENING AND TEMPERING OF TOOL AND DIE STEELS.pdf Clicks